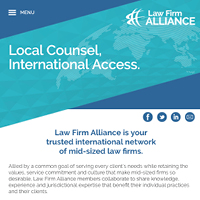 The holiday season was a flurry of activity for Herrmann and four of our clients as we collaborated to put the finishing touches on their websites and get them launched!
As we begin a New Year, we want to keep the celebrations going by introducing you to these four recently launched sites:
The November launch of Jones Walker's new brand and website was profiled in an earlier Herrmann blog, but if you haven't seen it yet, you'll want to take a look! Based in New Orleans, this national firm's site is energetic and spirited! See what we mean by visiting www.joneswalker.com.
Read More