Five Ways to Brag...Professionally
How Firms Can Promote Client Successes to Establish Credibility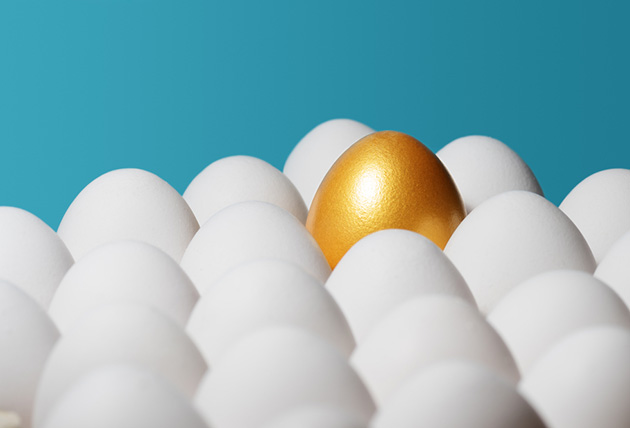 Your firm just won that huge case for its biggest client, acquired another firm to expand its capabilities and/or geographic footprint, or brought on a new rainmaker partner. Internally this is huge news, yet your outside audiences may be totally unaware of your big win.
Generally speaking, prospective clients tend to be impressed and convinced by results, not potential. While broader brand awareness is certainly important and the first step in engaging a potential lead, firms should be more focused on brand distinction to draw in even more potential new clients. Brand distinction is what makes your firm different from the competition or what makes you the "better choice." And in the legal and professional services arena especially, this type of distinction can be very tough to articulate, when most competitor firms are providing the same services and can make the same types of broad claims about quality, client service and experience. Therefore, marketing your results, successes, awards and cases presents a tremendous opportunity for firms to demonstrate real-world, tangible proof of their capabilities in ways that can more effectively distinguish them from other competitors.
Here are five tactics you can consider to market your firm's successes:
1. Utilize Your Homepage
In many cases, law firms tend to focus their main homepage banner – the most prominent real estate on their website's most visited page – on talking about "the what" rather than "the why." Firms want to make sure visitors know what the firm does, but they don't put enough emphasis on explaining why that visitor should consider working with them. Communicating that client benefit is key and it's something that many firms overlook. It's easier to talk about yourself than it is to articulate why someone should want to work with you and what problem you solve, but it's also less effective. Highlighting your firm's client successes solve this dilemma by allowing the firm to do both – you can showcase your firm's capabilities while demonstrating at the same time how your firm effectively works with clients and solves problems. So, when possible, we recommend using this premium space to spotlight strong, recent and compelling cases that demonstrate the effectiveness of your firm's counsel. If you won a $100-million-dollar lawsuit, having "Successfully Defended XYZ Company in 100 Million Dollar Infringement Case" on your homepage is a much more interesting, impactful and compelling welcome than focusing on the firm's capabilities or brand positioning more generically. We realize that NDA agreements and other hurdles exist and publicly promoting a firm's work for specific clients by name may not be feasible, but there are ways to work around that as well. By making your results big and bold, your firm is much more likely to stand out from the competition. A good example of this approach is Stroock, a New York-based firm with a national footprint that captures its excellence by highlighting a series of impressive cases on its homepage. This approach showcases the firm's abilities immediately, making it clear to prospective clients that Stroock's attorneys achieve real-world results.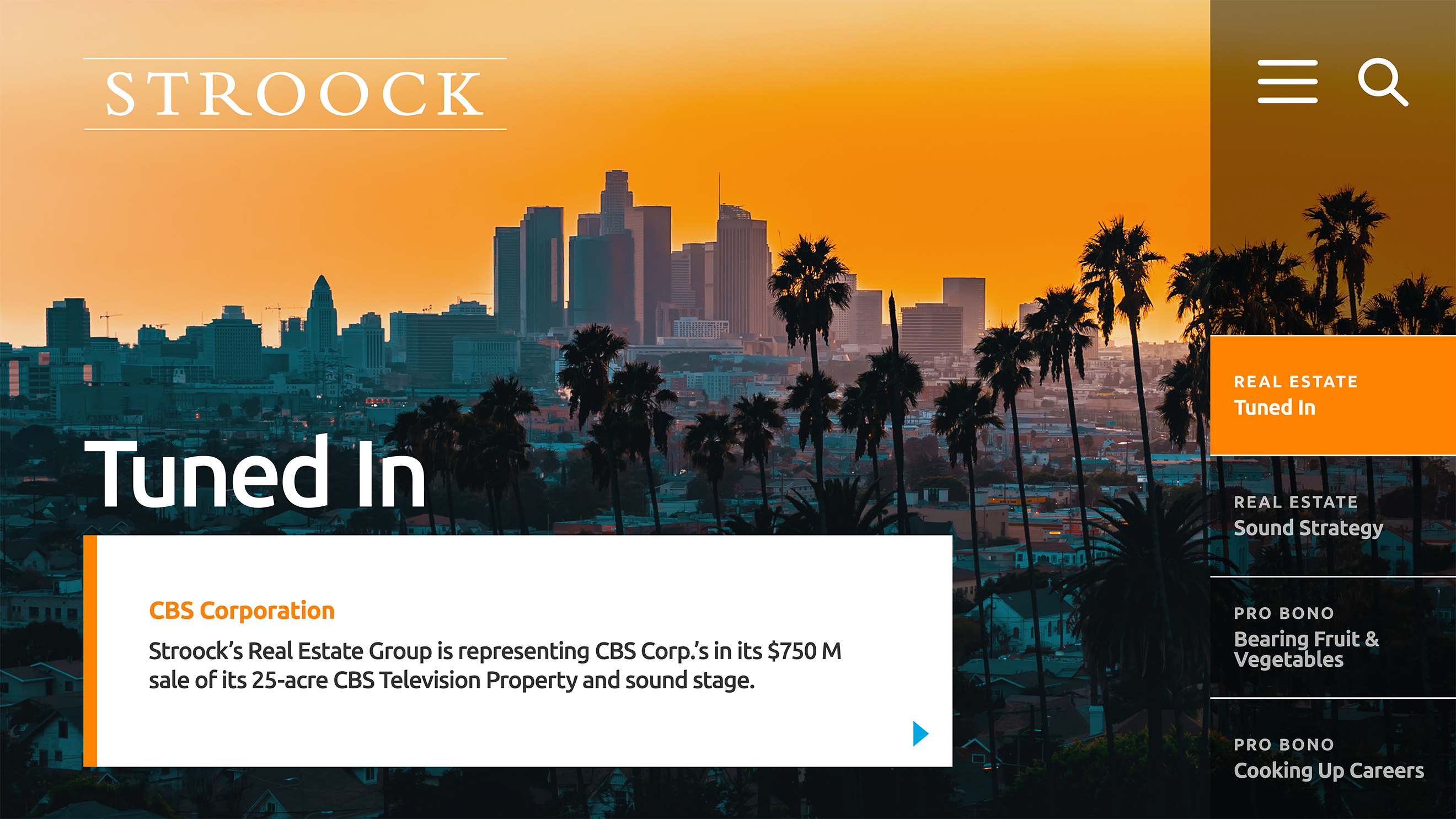 2. Produce More Video Content
The stats on video marketing prove its effectiveness in 2023, with roughly 92% of marketers who use video saying it's given them a good ROI. Using videos rather than traditional narrative descriptions to make an announcement, promote a win or market a case is a great tool to generate engagement and conversions. With almost every social media or digital platform having some sort of video function available, firms have a range and variety of places to potentially use video as a primary marketing tactic. Videos are much more engaging, more easily shared, have increased SEO benefits and will likely generate more impressions overall than an equivalent narrative description of the same content. More and more firms are opting to include videos on their homepage and landing pages, which is a great way to introduce content outside of static text and images to your website or social media pages. Troutman Pepper recently highlighted their knowledgeable energy attorneys and practice with quick videos on social media and their website. Utilizing their actual attorneys and latest note-worthy activities, this series is a great way to communicate information, showcase the depth of their industry expertise, and also grab and retain their viewer's attention about a certain topic or case.
3. Prioritize Social Media Posts
Social media is a great tool to market your firm's news, cases and results, as more people are engaging with it throughout their day than would naturally come to the firm's website to find content there. LinkedIn, especially, should be a primary focus for professional services firms looking to improve their brand recognition with other business professionals. Plus, the firm can use its existing network on LinkedIn, as well as individual attorneys within the firm, to boost the reach of this content, because whenever someone likes or comments on a post, their connections also get to see the post pop up on their feed as well. This allows the firm to expand its marketing reach more easily when compared to other tactics such as email blasts, which are limited to a firm's immediate contact list. Many today are even turning to social media as a search engine, as users are looking to find and follow content or brands they are interested in. Social media allows for sharing, commenting, tagging and a much wider interaction ability than many other platforms or marketing materials. Social media tools such as LinkedIn Articles, slideshows or carousels, stories, highlights, and featured or boosted content can and should be utilized to make sure your social media posts stay as highly engaging as possible. Todd & Weld is one example of a firm that markets its accomplishments and results via social media platforms. From highlighting attorney publications and internal news to big case wins, this firm keeps an active log of their firm's impactful activity via social media. Just recently they announced their successful defense of their client against a six-figure claim.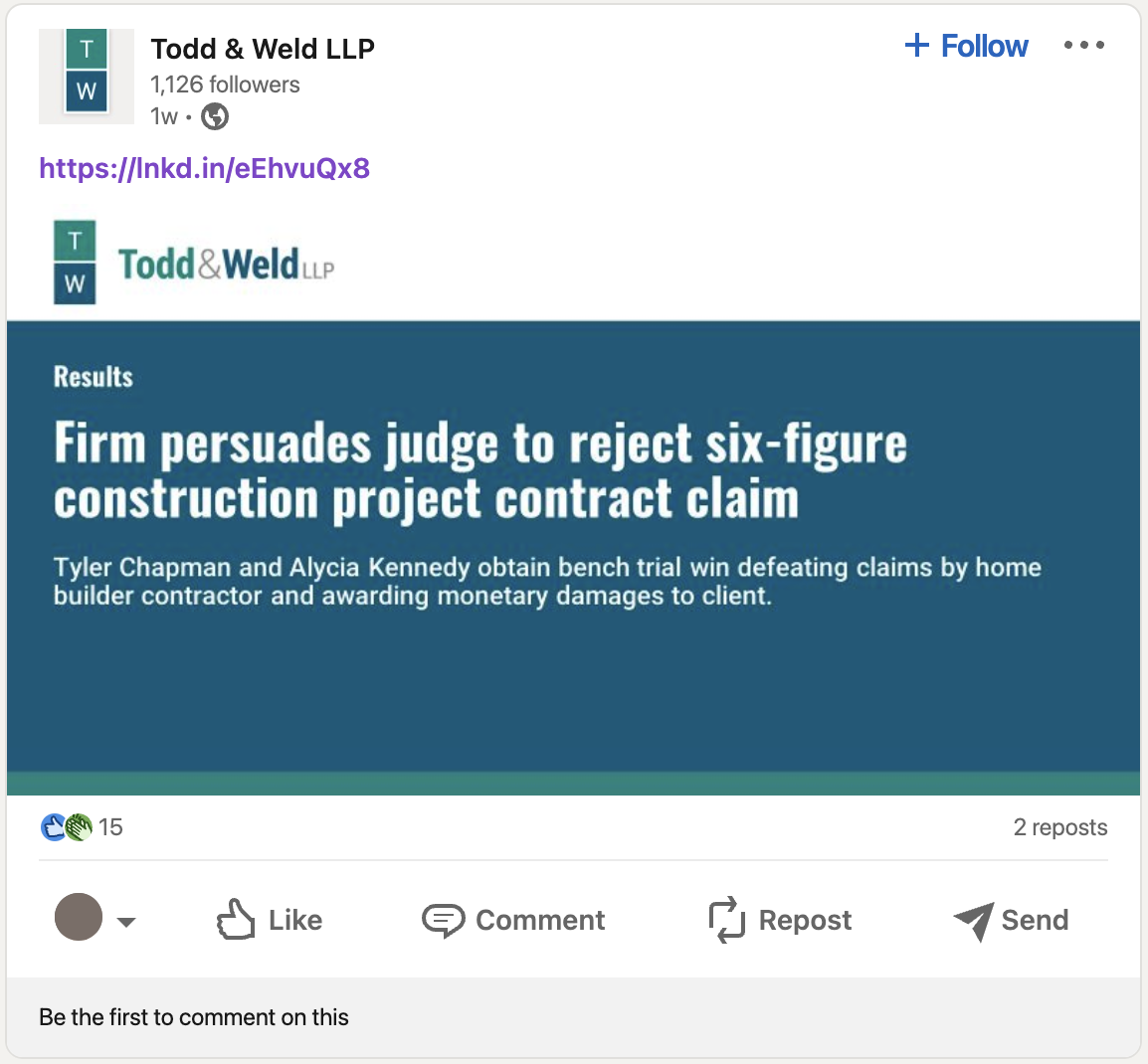 Todd & Weld
4. Write more In-Depth Articles, Publications and Featured Content Pages
While perhaps a more formal and time-consuming process, firms should definitely balance out their shorter content with more in-depth articles, thought leadership pieces or even special featured pages on your website devoted to individual client success stories. If you want to share a recent case win, use the storytelling method to keep the content concise and to the point, but also with enough details to keep the reader engaged. Avoid using too much legal jargon and instead, opt for pullouts and/or establishing a clear typography hierarchy to highlight the most important details. If publishing digitally, you can even use platforms such as Ceros or Foleon to include graphics, moving imagery or other dynamic presentation elements that will keep the reader engaged. Consider incorporating videos of the attorneys who handled the case telling their stories of how the firm approached the matter and how it was able to achieve a successful outcome. You really want to focus on the efforts behind the success and what it took to get to that successful result. Examples like King & Spalding's enriched case study pages help showcase the incredible behind-the-scenes details, people and facts about specific cases that otherwise wouldn't have been immediately known. Pages such as these build credibility and can show the audience the hard work your firm puts into its client's cases.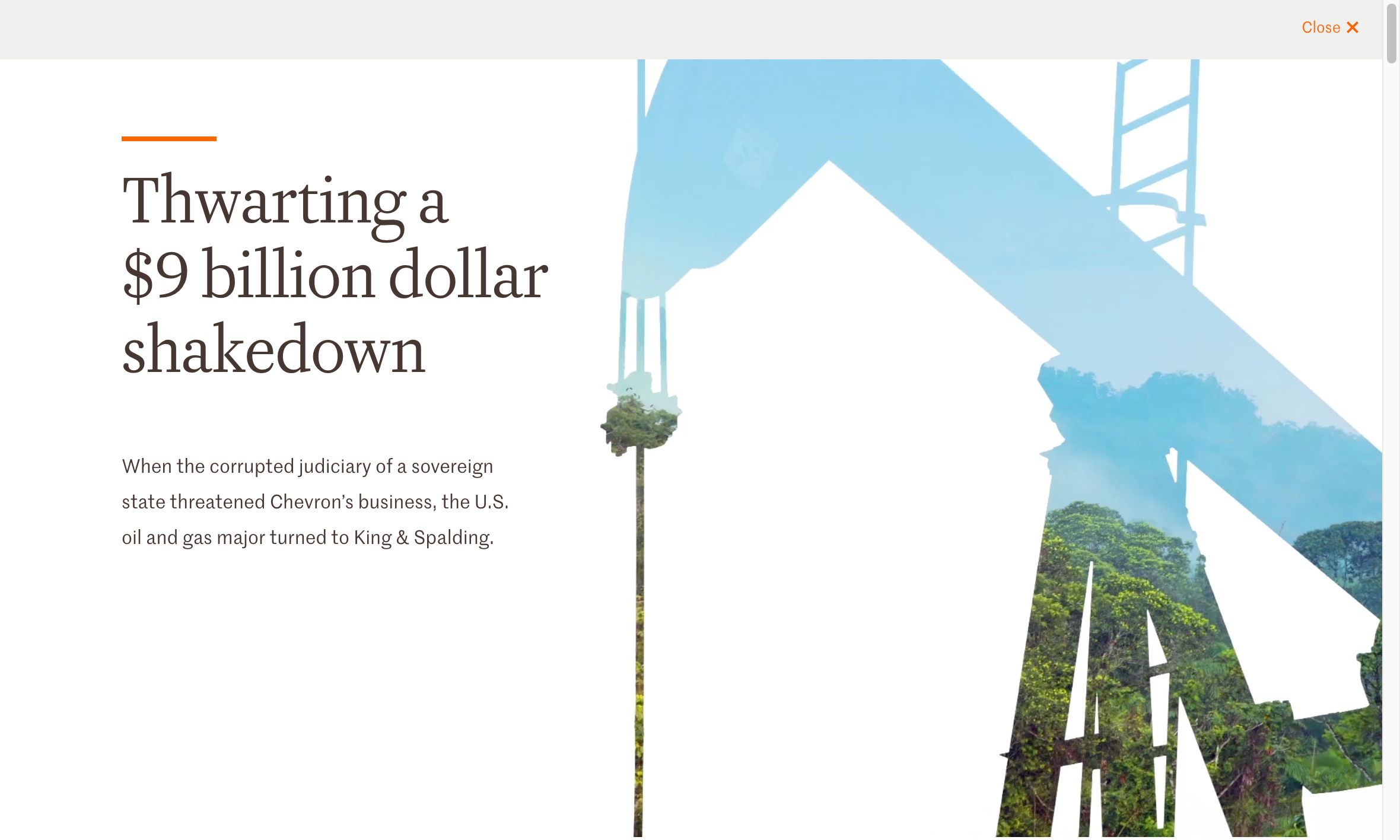 5. Use Other External Platforms
As mentioned above, journals and publications are a great way to market your success to an external audience. Aside from written content, law firms should be looking to get into other forms of media as well. This includes things such as other online publication sites, well established-podcasts or shows, YouTube channels and more. Only posting on your internal channels such as your website, email blast, podcast feed or social media pages reaches your direct or current followers. By expanding that reach to other external channels, you will be reaching completely different and new audiences as well. Perhaps another industry-focused podcast or channel could bring an attorney from your firm in as a guest and talk about their recent case or trial and the broader impact it may have on related industries, allowing for a real, raw, first-person recap of the case (not just a formal statement or publication made on behalf of the firm). One notable example of this was how last year's Johnny Depp v. Amber Heard case produced a huge spotlight on Brown Rudnick's attorneys for their representation and win of Mr. Depp's lawsuit. Attorneys Camille Vasquez, Benjamin Chew and Jessica Meyers provided their first-person interviews ranging from broadcast news channels to networks such as Law & Crime, and gave the world an insider's look into this popular and controversial case.
---
Highlighting your firm's successes is a big part of the brand differentiation process and tells the audience much more about your capabilities than a simple "About Us" page on your website could ever do. Making this a habit should be an important part of your marketing strategy, otherwise, you may have amazing stories and accomplishments going unseen, or worse, are losing potential clients to an uninspired first impression. Even with NDAs, there are ways to use placeholder names and or enhance your overall brand awareness language to make you stand out, e.g. "Representing a Seven-Figure Pharmaceutical Lawsuit." Use your website and landing pages to promote the latest and greatest news at your firm. Video content can enhance your website's overall visual look and make for more engaging content that people actually want to learn more about. Keep your social media channels up to date and utilize as many tools as possible to keep posts from becoming lost in the feed. Don't be afraid of length; publishing in-depth writings and articles builds up credibility and can be a great way to show your firm's process and strategy. Build bridges of connection by utilizing other external platforms as well—introduce and build a reputation for your firm to new and potential future audiences.
Need help marketing your firm's successes or want to enhance your current marketing strategy? Contact our Chief Business Development Officer, John Albert, at john@herrmann.com to see how Herrmann can help your firm today.