Capturing the Momentum
CASE STUDY: Kane Russell Coleman Logan Branding/Website Redesign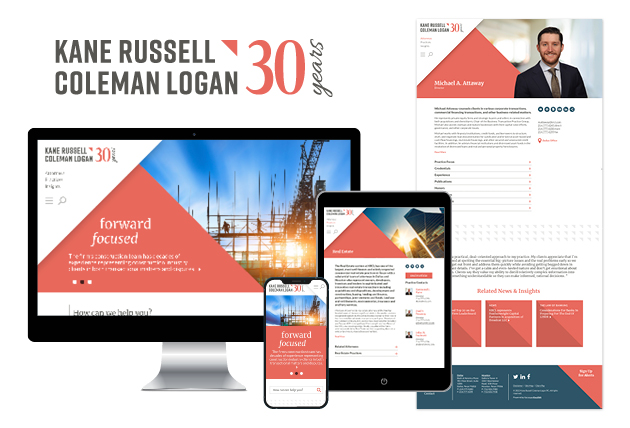 On the eve of their 30th anniversary, the leadership of Kane Russell Coleman Logan (KRCL), a mid-sized Texas-based law firm, recognized their website did not effectively capture the firm's brand. They felt the site lacked sophistication, energy, and messaging that conveyed who they were and what differentiated them from their competitors. Known for its real estate, banking and finance transactions, bankruptcy and commercial litigation practices, KRCL's reputation for excellence has expanded nationally and internationally. Therefore, it was important to project an image that would put them on par with larger competitors.
The Herrmann team went to work in 2021 armed with information and observations collected during discovery sessions with firm leaders and attorneys. It was determined that KRCL's client successes, thought leadership, industry knowledge and people would best distinguish them to clients and prospects. The firm's story needed to be told in a manner that was well-organized, fresh and compelling.
Implementing best practices in design and technology were also high on the firm's wish list. These included bigger, bolder, more engaging visuals; a mobile-first navigation approach; ADA compliance; and AI tools to link related content that would encourage reader exploration and engagement. Building the new site with HerrmannEasyEdit delivered the functionality and flexibility needed to deliver the customized, modern look and progressive technology the firm sought.
In contrast with the old website, the new homepage and attorney bio pages are just two areas where the brand image desired by the firm shines. The "Forward" messaging on the homepage is in stark contrast to the lack of context on the legacy page. The newly designed homepage now allows the firm to spotlight recent accomplishments, focus on practice groups, and highlight news and thought leadership. On the bio pages, larger photos of attorneys replaced smaller thumbnail versions, adding personality and visual interest. Each bio also includes an impact statement that quickly conveys the individual's expertise and provides additional information via clearly labeled sections that can be expanded with one click.

In addition to revamping the website, Herrmann also completed several other projects to complement KRCL's new look. By creating new templates for the firm's brochures, practice flyers, social media and email marketing, the modern, sophisticated image is now consistently projected across multiple platforms. The debut of the new website on Jan. 1, 2022, not only coincided with the new year, but also marked the 30th year of the firm's founding. To commemorate the occasion, Herrmann created a special 30th anniversary logo that was seamlessly integrated into the existing firm logo as well as a special anniversary video that is featured on the homepage.
Click here to view samples of some of our work for Kane Russell Coleman Logan and explore the new website at www.krcl.com.
Does your law firm have a rich and storied legacy, but a brand that fails to adequately capture the energy and spirit of who the firm is today? If so, contact Herrmann's Chief Business Development Officer John Albert today at john@herrmann.com to see how Herrmann can revitalize your online brand.