Breaking IP Barriers
CASE STUDY: Hamilton Brook Smith Reynolds Website Redesign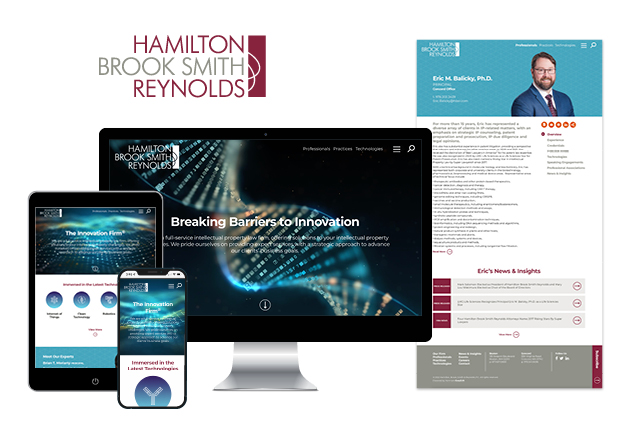 In today's rapidly evolving world of intellectual property, projecting sophistication and energy is imperative to attract cutting-edge companies and entrepreneurs. Not only does a law firm need to ensure it is prepared with talent and skill to address the latest developments, but its image must match its high-tech capacity.
Hamilton Brook Smith Reynolds, a full-service IP boutique based in Massachusetts, recognized their seven-year-old, Herrmann-designed website was no longer adequately showcasing the firm's greatest assets to discriminating prospects. They also recognized the importance of reflecting the latest best practices in web design and technology. In 2021, they again turned to Herrmann to update their site. The firm's decision reflected their prior satisfaction with the website development process as well as confidence in Herrmann's ability to deliver a fresh new look that took advantage of the newest web features.
The law firm's depth and experience were attracting a growing clientele of international corporations, startups, academic and research institutions, investors and others. With a reputation for high-quality counsel across many IP disciplines and technologies, including a renowned patent prosecution practice, they wanted to make sure their image was on par with other premier law firms they often faced when pitching new prospects. Streamlined, progressive, sophisticated and energetic were some of the primary attributes they wanted their new site to reflect.
Herrmann relied on the input collected from the initial discovery sessions to create a creative brief that provided inspiration to the design team and direction to the technology team on incorporating new front- and back-end navigation and content management tools. The new site would incorporate the latest release of HerrmannEasyEdit, the content management system the firm used on the legacy site that allowed them to quickly make updates to photos, feature articles, bios, practices, events and news articles and have these edits automatically populate across the site.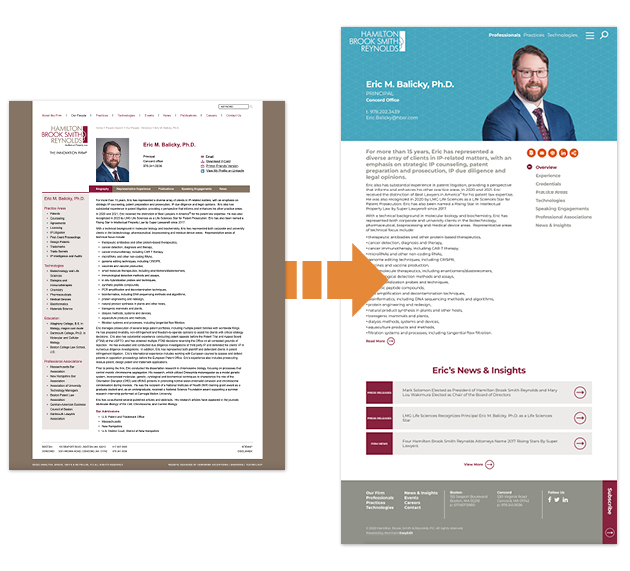 The design of the new site, which launched in early 2022, captures the sophistication and spirit of Hamilton Brook Smith Reynolds in a manner that exudes the high-tech energy that surrounds today's IP. Using "innovation" as its primary theme, the messaging is emphasized throughout the site via attention-grabbing video, bold imagery, concise content and modern design. Readers easily grasp the firm's capabilities, capacity, reputation, diversity and thought leadership with one visit to the new homepage. The easy-to-scan format used on the homepage is also applied to other pages throughout the site. Of note are the redesigned attorney bio pages that engage readers with larger photos and well-organized content.
See the firm's exciting new brand come to life at www.hsbr.com.
Does your law firm have a rich and storied legacy, but a brand that fails to adequately capture the energy and spirit of who the firm is today? If so, contact Herrmann's Chief Business Development Officer John Albert today at john@herrmann.com to see how Herrmann can revitalize your online brand.