Straightforward & Sophisticated
Case Study: Creating a contemporary brand for Post & Schell's new website and logo.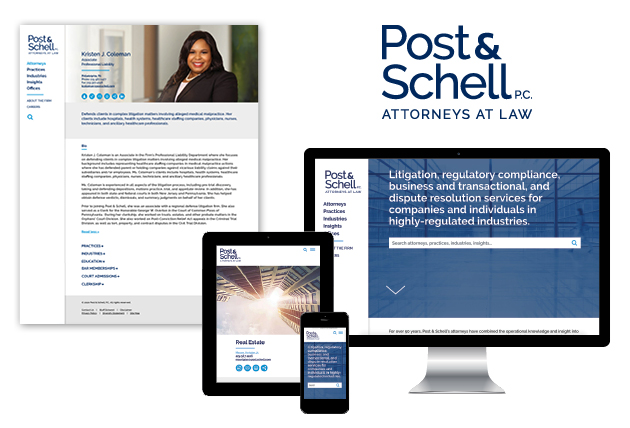 Founded in Philadelphia in 1968, Post & Schell has steadily grown throughout the Mid-Atlantic. Today the firm enjoys a national reputation that extends across a variety of industries and practice disciplines. Recognizing their website was due for an overhaul, the firm turned to Herrmann. During discovery sessions with the firm's leadership, there was a consensus on what the current website lacked and what they sought in a new site. The leaders also recognized that a new site would allow the firm to stand apart from its competition.
Among the things they wished to avoid was the dense appearance created when too much information and copy was placed on every page. The focus needed to be placed on highlighting more recent content, conveying it in a compelling manner that demonstrated Post & Schell's understanding of clients' industries, and making it more visually appealing and engaging through the use of photography and graphics. In addition, they wanted to incorporate a new proposal tool that would improve the formatting of content, and the ability to offer attorney bio PDFs in both short and long versions.
With Post & Schell's goals in mind, the Herrmann team began designing a new site that would reflect the firm's brand: straightforward and efficient with no nonsense or fluff. Client focus, a key differentiator for the firm, would also be at the forefront as the design evolved. Thus, it was important to deliver an enhanced user experience with clear-cut navigation for users to follow so information could be located easily and more detail provided when readers wanted to make a deeper dive.
The new Post & Schell homepage is a refreshing change. In contrast to the density and clutter of the old site, it is clean, fresh and engaging. Various shades of blue, as well as a deep orange and gray, serve as accents to the firm's primary blue color. Photography, illustrations and various graphic elements are incorporated to highlight content and vital stats, giving the site a contemporary vibe. Herrmann managed and art directed the custom photo shoots for the new attorney biography pages — 150 lawyers across eight offices —using environmental settings that add personality and humanize the firm. The incorporation of a strong impact statement on the bio and practice pages reflects one of the more popular trends in the industry. Even the firm's logo, which was not originally part of the project's scope, was refreshed. Using sans serif font and a simplified design, it projects the firm's straightforward approach to client matters.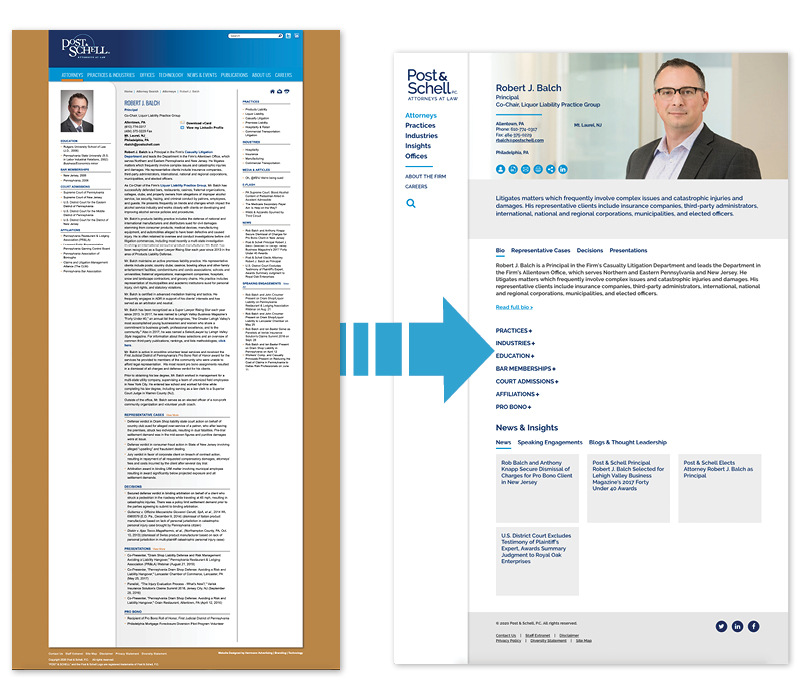 On the backend, the firm was already using an earlier version of HerrmannEasyEdit content management system but wanted to take advantage of all the latest features. Now they can make updates easily, populate information across multiple pages in one step, resize and crop photos — and do it all from desktops, tablets and mobile devices. It was also important that the site be responsive, allowing users to easily view and access information from various devices. We also moved the firm's blogs that previously resided on other platforms into our CMS as part of the content migration process.
Explore the new Post & Schell site here www.postschell.com.

Does your law firm have a rich and storied legacy, but a brand that fails to adequately capture the energy and spirit of who the firm is today? If so, contact Herrmann's Chief Business Development Officer John Albert today at john@herrmann.com to see how Herrmann can revitalize your online brand.