2020: The Year When Kicking the Habit Hit Home
Case Study: Anne Arundel County Department of Health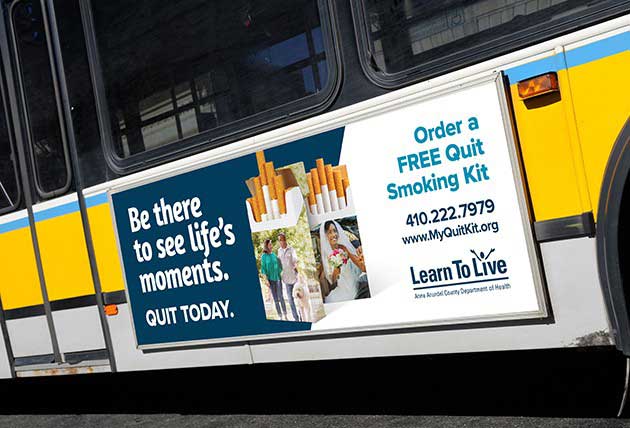 For many years, Herrmann has partnered with the Anne Arundel County Department of Health to plan and execute a variety of campaigns to inform the public of the resources available to residents. From breast cancer screenings to addiction-related topics, we have tackled each challenge by combining creative strategy, eye-catching design, memorable messaging, and thorough media planning and implementation.
The recent 2020 Smoking Cessation campaign aimed at county residents was no exception. Even though we had produced several years' worth of campaigns for the department on the topic, we embarked on the latest assignment with a fresh perspective, combining best practices from past campaigns with input from the department that originated from various stakeholders. Little did we realize when planning began in the fall that the upcoming campaign would have such an impact on smokers.
In order to reach both the general population as well as minorities, campaign elements were produced in both Spanish and English. The campaign's "Life's Moments" messaging emphasized to smokers the importance of quitting in order to continue to experience the milestones ahead – welcoming a new baby into the family, attending a child's graduation, being alive to celebrate a wedding, and even a simple walk in the park with your loved one and pet. By placing photos of these special moments squarely on cigarette packs, the subliminal message was clear: think of what you want to live for before you reach for a smoke.
Campaign Execution
The multimedia campaign launched in early January, just as the COVID-19 outbreak was starting to consume the news cycle. The virus' impact on the lungs – and the added danger it posed to smokers – helped fuel a renewed interest in kicking the habit. Over the course of six weeks, a variety of print, digital, out-of-home and television ads were targeted to county residents. We employed a mix of platforms, including 30-second cable television ads, cable program sponsorships and streaming service videos; animated and static digital ads via both programmatic and publisher-placed outreach, social media and the department's website; Annapolis Transit bus posters; and newspaper ads. All campaign elements drove traffic to a Herrmann-designed landing page on the department's website that provided helpful tips, the ability to download or order a Quit Smoking Kit, and information on how to take advantage of free smoking cessation classes.
Impressive Results
With more than 6 million impressions delivered during the period across all media channels, the department saw a significant uptick in both visits to its myquitkit.org website as well as phone and online requests for information.
More Healthcare Projects
You can view our work for clients in the public health arena as well as examples of projects for other healthcare-related practices and companies here: https://www.herrmann.com/#close=&filter=.healthcare
For more information, please contact Herrmann's Chief Business Development Officer, John Albert, at john@herrmann.com or 410.267.6522, ext. 252.