What were we thinking?
Reimagining a platform, rebuilding an experience.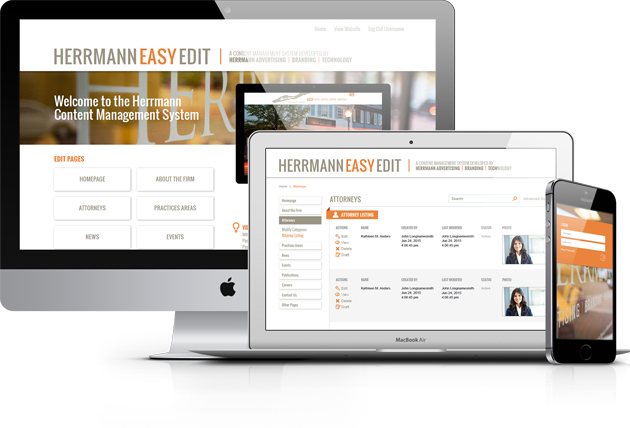 We are thrilled to announce the latest release of our industry-leading content management system, HerrmannEasyEdit 4.0. Completely rebuilt from the ground up, version 4.0 features an entirely new system architecture, a fully responsive interface, a more intuitive user experience and countless other updates and enhancements.
There were several reasons we elected to build EasyEdit from the ground up as opposed to simply tacking on new features and functionalities. But one reason stood out above everything else: The need to be responsive. You see, when we first built EasyEdit over a decade ago, responsive design wasn't even a theory. But as with most things on the web, technologies evolve quickly and our platform needed to adapt to meet the changing needs of our clients.
We knew that the ability to access, edit and manage website content from pretty much anywhere on any device was non-negotiable. We also knew that we wanted a system that encouraged best practices and could scale to meet new technology requirements in the future. So, where to begin?
We started with research. We explored a number of different core technologies and platforms, but ultimately chose Laravel as our underlying web framework. In retrospect, the choice was easy. Laravel blends the best of all worlds. It's a hugely popular, open-source platform that powers countless web applications and industries. Its semantic structure and clean syntax encourages elegant coding practices, and it has the security, flexibility and scalability to grow alongside our platform. In short, it was perfect.
Beyond just the framework however, we wanted a smarter and more effective user experience. Great user experience—like great design—is invisible. It anticipates needs and presents information in ways that are both intuitive and engaging. We added a few highly requested features including the ability to resize and crop images directly within EasyEdit 4.0. Previous versions required users to open a separate image editing application. Now they can do it directly within our system.
Because integration is everything, we made everything more integrated. We built in Google Analytics, so users can access key site metrics and conversions faster than ever before. We also added the ability to directly integrate with industry-leading email marketing, CRM and event management platforms, such as Mailchimp and Salesforce, among others.
But we didn't stop there. Since flexibility is the key to content management, we made it easier than ever to add, edit and sort information. With one-click connections, users can relate content across pages and categories faster than ever before. And crafting engaging online personalities for attorneys is a breeze with options that allow you to customize photos, professional experience, and add social media profiles for each individual bio.
That's just the tip of the iceberg. Our goal from the beginning has always been to deliver unparalleled power and flexibility, all in a robust, affordable package that's easy to learn, use and manage. Want to find out more? Visit us at herrmanneasyedit.com to learn more about new features, see examples in action, and request a demo. We think you'll love it.