Injecting Interconnectivity
Case Study: PilieroMazza's new brand stresses a holistic approach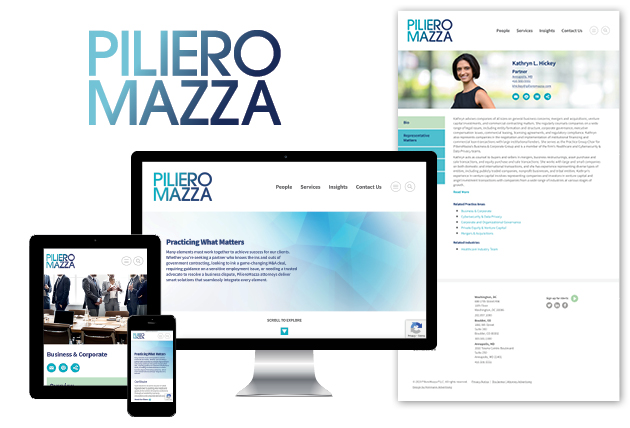 Like many law firms, PilieroMazza had created an enviable reputation within a defined space, but was struggling to build awareness among its clients and prospects that it offered much more. Internally, the firm's various practice groups and attorneys were making a concerted effort to demonstrate their interconnectivity, but they recognized their current website and logo needed to be refreshed. In selecting Herrmann to take on the assignment, PilieroMazza looked to leverage our agency's experience in law firm branding as well as our ability to project the firm's distinctive personality and approach.
While the firm enjoyed a national reputation in the government contracting arena, especially for Small Business Administration procurement programs, it offered a host of capabilities to clients large and small. PilieroMazza's 25+ attorneys regularly collaborate, bringing their varied practice perspectives and skills to the table in far-ranging matters that include litigation, corporate law, government relations, labor and employment, business transactions and other engagements.
Herrmann created a new logo that reflects PilieroMazza in a modern, forward-thinking manner. Using graduated shades of blue and a sans-serif font, it is contemporary, yet timeless. A new firm tagline, "Practicing What Matters," reinforces the connection among PilieroMazza's clients, attorneys, practice groups and industry teams as well as the firm's ability to deliver creative, efficient and winning solutions for its clients.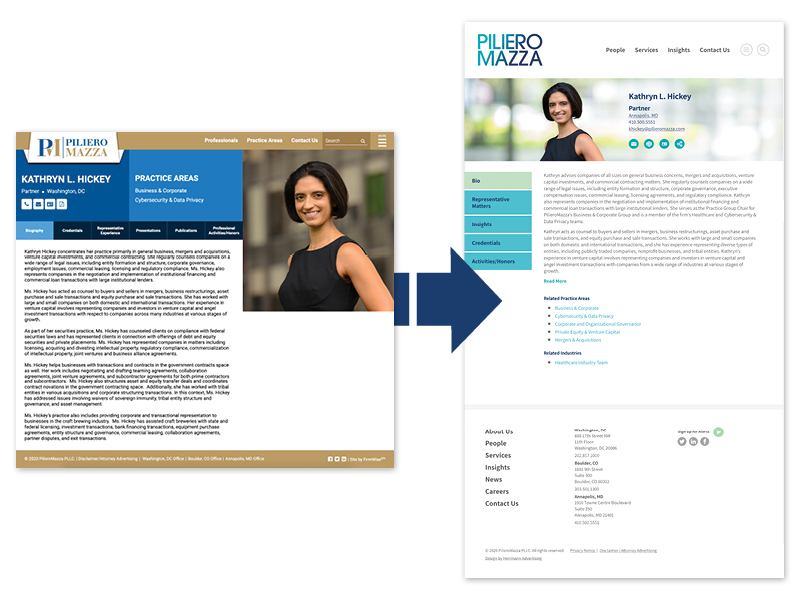 For the website, the firm selected Wordpress as a starting point as it was seeking a content management system that was openly accessible versus a proprietary system. However, it was important to ensure the new site's design was not confined to a standard template. Herrmann developed a fully customized design within the Wordpress framework and built the site to allow much more flexibility and capability within its CMS. Having the ability to feature new content and make quick updates on the website was vital as lawyers representing various disciplines were making a concerted effort to generate blogs, webcasts, client alerts, articles and other resources to demonstrate thought leadership and interconnectivity.
The updated site and logo debuted in August 2020. Today, visitors to pilieromazza.com enjoy an enhanced user experience with improved navigation, multiple engagement options, and seamless integration across desktops, laptops, smartphones and tablets. With an abundance of fresh, relevant content, visitors can readily appreciate how PilieroMazza is truly "Practicing What Matters."
View the new site at: www.pilieromazza.com.

Does your law firm brand need an injection of fresh creativity? If so, contact Herrmann's Chief Business Development Officer John Albert today at john@herrmann.com to see how Herrmann can revitalize your online brand.