Propelling 140 Years of Legacy Forward
CASE STUDY: Stroock Website Redesign/Brand Refresh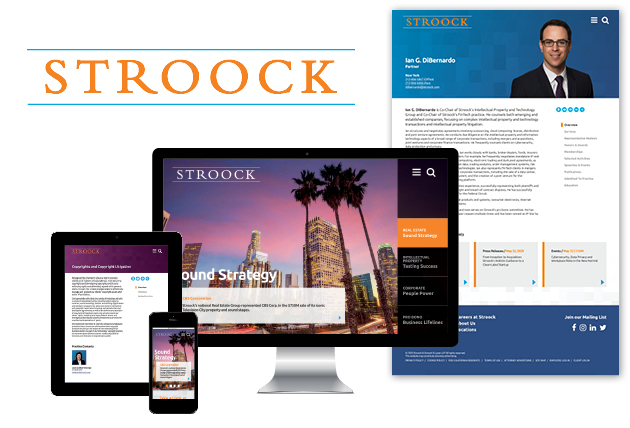 Stroock, a 140-year-old general practice law firm with offices in New York, Los Angeles, Miami and Washington. D.C., wanted to be known as more than simply a "New York Wall Street firm." Recognizing its legacy brand had become stodgy over the years, the firm turned to Herrmann in late 2019 to begin a website project designed to better reflect its "new brand" — one energized by new attorneys joining the firm as well as a growing number of high-stakes, high-profile matters for well-known clients.
Even though the firm had done a limited website refresh with another agency in 2018, they recognized the need for a complete redesign if they were to convey their message appropriately and consistently. They wanted a new site that was fresh, modern and sophisticated in its design while effectively communicating the firm's personality and relevance. It was important that the site position Stroock as a national law firm that delivers the level of quality and service normally associated with the top 25 Am Law firms since they typically competed against these larger firms. Stroock also recognized it was important to project a brand that was at the level of the nation's top legal and accounting firms.
Herrmann went to work, creating a new site that would meet the firm's goals. We developed a new site map that organized the content in a logical fashion. The site's uncluttered homepage design features rotating hero images reflective of some of their recent representations, along with copy that invites the readers to learn more about the individual cases. A robust search tool was also added that invites the audience to "take a look at Stroock." The tool delivers the search results in a manner that is easy for users to digest, with information sorted by attorneys, news and insights, services and events. A third homepage feature, billed as the "Latest and Greatest," provides up-to-date news and information with a short teaser headline and photo that is linked to a longer recap.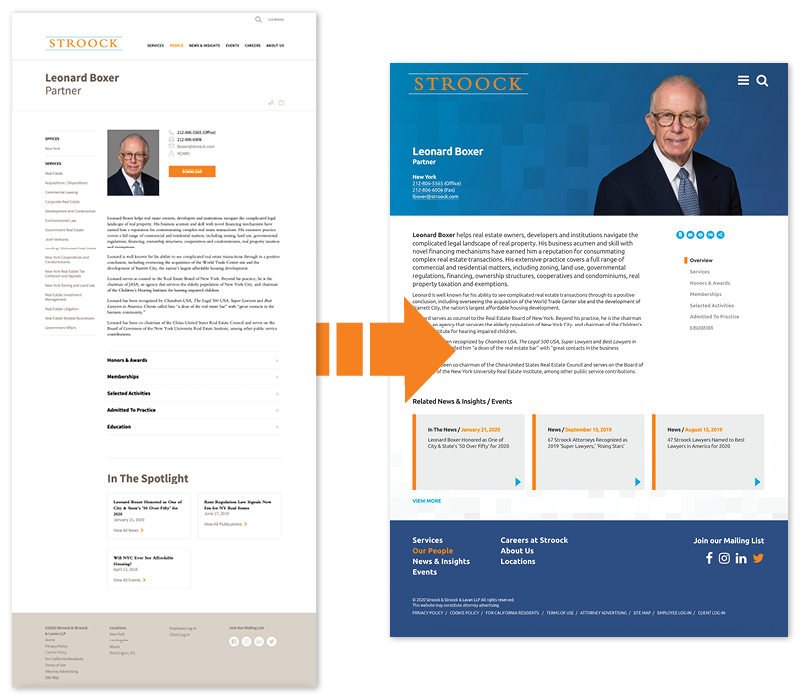 Like the homepage, the site's main sections are now presented in a much more succinct manner, allowing users to organically explore in more detail. We expanded the firm's color palette to inject energy and life into the brand. We repurposed the existing attorney photos used on the bio pages, making them larger and presenting them in a more compelling layout. Photos are now set against a background featuring subtle shades of blue shapes suggestive of movement and vitality. Throughout the site, more visuals and infographic elements were added to convey information. Long paragraphs of copy were replaced by smaller, snackable chunks of content that are easier for viewers to scan and digest. The firm's personality was also injected across the site's pages as demonstrated by the use of testimonial quotes from attorneys in the Careers section. Herrmann's copywriters also reworked the "About Us" and "Careers" pages, shortening the material and the manner in which it was presented to appeal to today's online readers.
While creating a fresh brand presentation was critical, it was equally important to upgrade the backend technology. The legacy site's Wordpress platform was convoluted and difficult for the marketing team to work with. The new backend features the HerrmannEasyEdit content management system that allows the firm to make fast updates, even by phone or tablet, and populate the information across multiple pages without the need to make separate uploads. The upgraded backend technology sets the stage for a responsive site that is optimized for viewing across all devices. The technology also provides a solid foundation for expansion of the site in the future.
In addition to the website, Herrmann updated designs for several other projects — including presentation and proposal templates, industry brochures and ads — to reflect Stroock's new brand look.
The new Stroock website, which went live in June 2020, is a striking example of how important this flagship communications platform is to project a new brand image. Like the firm itself, a sense of spirit and energy is now apparent. View the new site at: www.stroock.com.

Does your law firm have a rich and storied legacy, but a brand that fails to adequately capture the energy and spirit of who the firm is today? If so, contact Herrmann's Chief Business Development Officer John Albert today at john@herrmann.com to see how Herrmann can revitalize your online brand.