Looking Your Best for Bios
Style Tips for Your Post-Pandemic Photo Shoot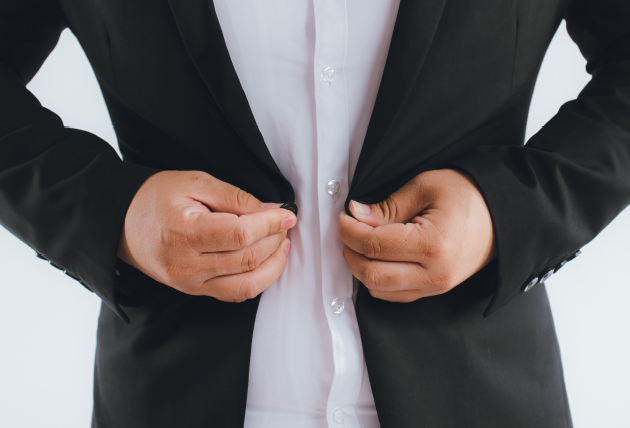 Hooray, life is getting back to normal! People are venturing back to their offices, seeing clients and colleagues, and getting on with business as usual. Uh oh, the marketing team just informed you of a company re-brand – complete with new bio photos. Gasp! You've been rocking sweats for the last year and haven't noticed the "Quarantine 15"!
When you want to look your best on your website bio, it's important to keep these tips in mind:
Fit. A suit looks best when it fits perfectly. A couple of weeks before your photo shoot, decide what you're going to wear – make sure you try on your suit or dress with plenty of time to go shopping or see a tailor if it's not up to snuff. For men, the top shirt button should be able to button and still leave room to breathe. The same goes for suit jackets – they photograph better (and look more professional) when buttoned with a nice fit – a jacket that buttons and has some wiggle room will photograph better from every angle. A jacket that can't be buttoned will add 10 lbs. in the camera. If you feel comfortable in what you're wearing, you'll look great!
Press. No doubt your business clothes have been tucked away for a while. When you dig them out and dust them off, make sure everything is clean, fresh and wrinkle-free.
Groom. If it's been a while since the last haircut, now's the time to get back to the barber. Get yourself a nice new do, but allow a couple of weeks to get used to styling it. Also, pay attention to any unruly eyebrow or nose hairs.
Now that you've dusted off the cobwebs and are looking sharp again, here are some best practices for preparing for a photo shoot.

Tips for Men
A mid- to dark-toned (not black) suit is appropriate. Avoid white or light-toned suits.
Solid color jackets work best. Plaids and stripes can create moiré patterns in the camera.
A starched white or light-toned shirt under a dark jacket is appropriate. Avoid shirts with bold prints or patterns. Solids work best.
Your tie or bow tie should be a contrasting color to the suit, but not too busy.
If you are unsure, bring several ties/bow ties along with an extra pressed shirt and jacket.

Tips for Women
If you have fair skin and light colored hair, darker-toned suits or dresses work well. If you have a darker complexion and dark hair, wear mid-toned shades (dark enough to show up on a white background, but light enough to contrast with darker skin tones).
Try to avoid any garments that are black – anything too dark may lose detail.
Choose clothes that are flattering and fit you properly. Avoid clingy knits and low necklines. Women, especially those with broad shoulders, photograph better without a jacket – which tends to bulk up in camera. Instead, try a blouse without a jacket or a dress topped off with a beautiful scarf.
Scarves, jewelry and interesting necklines make for more engaging photographs.
Certain fabrics and textures may cause a moiré pattern in the camera. Avoid chiffon, silk and thin stripe patterns.
Wear heels, even if your photo won't be showing feet. Wearing heels for your photo will improve your posture and overall body language.
If you are unsure, bring an optional outfit and accessories.

Bios are the most searched pages on a law firm website. That means your bio photo serves as your first impression. Keeping these tips in mind will portray your confidence and give you plenty to smile about!

Could your firm's bio pages benefit from new photography? If so, contact Herrmann's Chief Business Development Officer John Albert today at john@herrmann.com to see how Herrmann can help. And be sure to read our previous post on how to choose the best biography photo style for your firm.