The Virus & The Law
How firms are proactively addressing client concerns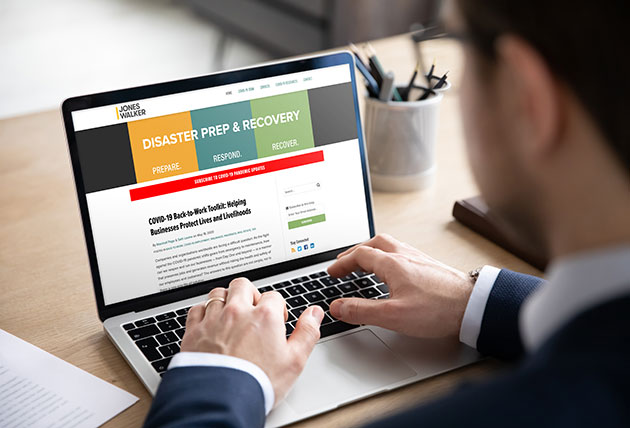 As countries, states and cities around the globe transition to a "new normal" and cautiously face a world where COVID-19 is a daily concern, law firms – large and small – have been extremely proactive. Since the beginning of the year, lawyers have seen an uptick in client concerns – from both businesses and individuals – that defy traditional practice silos and demand unprecedented collaboration to deliver holistic solutions.
Among the most sought-after topics that lawyers from firms of all sizes are addressing are those related to federal loan and tax relief programs; employment, workforce and payroll issues; commercial contracts; impacts to landlords and tenants; insurance coverage; disruptions to financial and capital markets; restructuring and bankruptcy; trusts and estates; and litigation-related concerns, including how to address cases in progress as well as the anticipated uptick in disputes related to the outbreak.
Large firms across the country have been extremely proactive in establishing legal task forces concentrating on COVID-related issues that businesses are facing. Firm attorneys are:
Authoring articles, Q&As, special alerts, and "how to" guides that are proximately featured on website homepages
Stepping up email outreach to alert clients and prospects to the depth of resources available
Hosting webinars and video presentations
Conducting virtual meetings through Zoom and teleconferencing with those seeking counsel
In many cases, lawyers are also sharing their insight with reporters from local and national media, gaining recognition as thought-leaders and driving brand awareness of their respective firms to millions of individuals and businesses.
Small firms are also stepping up in ways that demonstrate their client focus and desire to address hot topics within their communities. For example, a Labor & Employment attorney from a Mid-Atlantic firm participated in a webinar to provide businesses with information related to compliance related to the Families First Coronavirus Response Act (FFCRA) and how to coordinate their actions if the company is also receiving a Paycheck Protection Program (PPP) loan as part of the CARES Act. Attorneys from the same firm are also blogging on COVID-19 topics related to real estate matters and estate planning.
Many small and mid-sized firms are helping businesses navigate the many relief programs as well as providing counsel regarding legal, financial and business problems related to the pandemic. One Maryland firm recently filed a class action lawsuit in the U.S. District Court for the District of Maryland against the Small Business Administration and Treasury Department claiming the PPP unjustly discriminated against minority and woman-owned small businesses.
These are, indeed, strange times. No roadmaps, few precedents. We all must be ready to pivot on a dime and to change course as new answers, new guidelines and new regulations emerge. But one thing is certain: the firms that are making the effort today to guide clients through this difficult course will be the ones that survive and thrive in the months and years ahead.
Does your firm need help implementing a content strategy or other website enhancements? Contact Herrmann's Chief Business Development Officer, John Albert, at john@herrmann.com to set up a free consultation today.