Tweet With Authority!
Tips to stand tall among the Twitter flock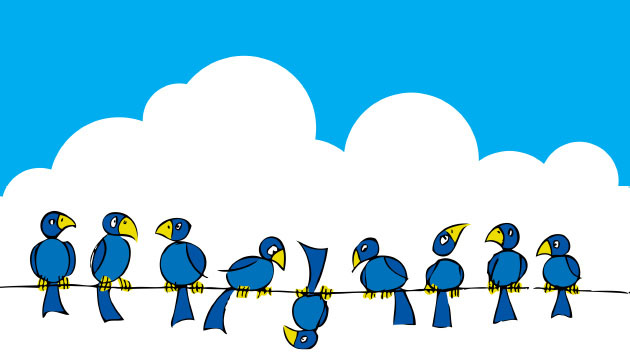 Twitter currently has 310 million monthly active users. There's a whole world of people to reach! If you're seeking more engagement with your tweets, things like formatting and timing are key. Once you establish your marketing objective and know your goals, use these tips to help get noticed and increase traffic.
80% of people access their Twitter feeds on a mobile platform. In other words, they're likely to be on the go and scanning Twitter quickly. Keeping your tweets short and to the point will help them get noticed.
Include an image. Tweets with images receive 18% more click throughs, 89% more likes, and 150% more retweets. If you're searching for the perfect image to complement your tweet, try Twitshot, a website that automatically extracts images from pasted links and attaches them to tweets. It's available through any browser or iOS. And best of all, it's free!
#hashtag. Using hashtags is a great way to increase the discoverability of content on Twitter. This how-to wikiHow guide will have you hashtagging like a pro in no time. But don't go overboard, try sticking to one or two hashtags per tweet. Want to know if a certain hashtag is trending? You can find out on a site like Hashtag.org.
How often should you tweet? You might be surprised to learn that three tweets per day seems to be the best choice for optimal engagement per tweet, according to SocialBakers, while Track Social puts the number at 4-5 tweets. To find out what works best for you, try tweeting once, three and five times a day, and keep track of the engagement you receive.
What time of day is best? Similar to the frequency of tweets, finding the right time of day is important. This will depend on your specific audience and may require some experimenting. According to QuickSprout (featured on AdWeek), posts at 12 pm and 6 pm get the best click rate and posts at 5 pm get the most retweets.
What makes people share a tweet? People are more likely to interact with or share a tweet that inspires or entertains them, solves a problem or answers a question. Be authentic and reply to others. Engage with your followers and people will be more likely to reciprocate. Try offering a promotion or coupon, or offer some interesting industry news of value to your followers.
Track your stats. Visit analytics.twitter.com to analyze your comments, engagement & Twitter data. Or, you can use an outside tracking service such as Twitter Counter and Sprout Social. Grow your audience and improve engagement by knowing which tweets perform best.
Search for new followers (and possibly new clients). Use Twitter's search feature to find keywords related to your business. Find a tweet that pertains to your business or industry and retweet it. That person may check out your profile after receiving a notification.
On that note, your profile page better look great when people visit. Customize your accent color to complement your business identity. Your avatar will most likely be your logo or a photo of you. Your header photo contains a huge amount of space to make a statement—use this area to let your personality shine. If you need inspiration, there's plenty out there using a simple Google search. You'll want your bio to be compelling and sound awesome. Make sure it's accurate. Use an upbeat tone and flatter yourself. It's okay, don't worry about having an ego here. Include hashtags and links if you want to connect yourself with a company or other profile.
Follow your competitors. But don't follow them. There's a sneaky way to keep up to date on your competition by using a private Twitter List. Find step-by-step instructions on setting one up here. As a bonus, seeing what your competitors are tweeting can help inspire your own tweets.
Managing your social media can be a lot of work, but by using these tips you can help maximize your time—which should leave extra for getting back to business!