Lightfoot, Franklin & White Case Study
A Powerful Brand for a Litigation Powerhouse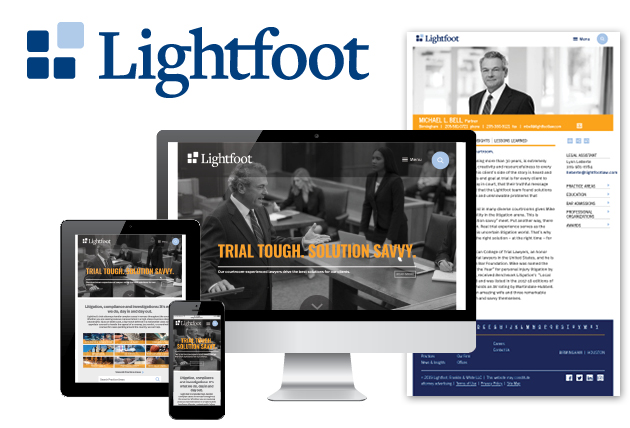 "This was a major undertaking for us, but the Herrmann team guided us through every step. They listened, advised and kept us focused on the ultimate goal. Our new brand truly reflects Lightfoot's sophistication and spirit."
Emily Woloschuk
Director of Marketing & Business Development
Lightfoot, Franklin & White
Lightfoot, Franklin & White, an Alabama-based litigation boutique with offices in Birmingham and Houston, is proud to be known for taking on some of the most complex cases in the most difficult venues in the country. Its visual identity, however, didn't reflect the depth and sophistication normally associated with bet-the-company lawsuits, far-reaching class actions, challenging multidistrict litigation, or its extensive trial and appellate experience. Recognizing the need to refresh its brand, the firm engaged Herrmann to project its brand in a more contemporary, powerful manner.
During Herrmann's discovery sessions with internal stakeholders, we learned one of the key benefits Lightfoot offers to clients was that their courtroom experience often puts them at a distinct advantage. Because Lightfoot attorneys prepare each case as if it will go to trial – and are known as fierce advocates for their clients' positions – opposing parties are often much more inclined to consider solutions that drive out-of-court resolutions. In our analysis of competitors' brands, we found that while some emphasized their trial work, few noted this often places them in a better position at the negotiation table – a path many clients ultimately prefer over the uncertainties of prolonged litigation.
Following the discovery phase, Herrmann put a fresh spin on the Lightfoot's logo and developed the firm's "Trial Tough. Solution Savvy." tagline – both of which are prominent on the new lightfootlaw.com website. On the front end of the site, the Herrmann team created an engaging design and messaging that reinforces the firm's strength, capabilities and thought leadership. The backend is powered by HerrmannEasyEdit, our customized CMS solution that provides the ideal blend of flexibility, scalability and affordability while offering an intuitive, easy-to-manage platform for managing content via desktop and mobile devices.
In addition to redesigning Lightfoot's logo and creating a new website, Herrmann also delivered a number of projects that feature the firm's new brand identity. These include letterhead, memo, business cards and other stationery items; templates for PowerPoint presentations, proposal covers and e-communications; a folder and pitch materials; an event banner; the firm's quarterly announcements; a Brand Guide stylebook; and a holiday card that introduced the new brand and website to clients and friends at the start of 2019. Herrmann also provided copywriting and editing services on many internal and external communications projects to ensure continuity in style and brand messaging.
Following the introduction of the firm's new visual identity, website and core communications materials, Herrmann is continuing to partner with Lightfoot on a variety of projects that will continue to extend the visibility of its brand and thought leadership.
View samples of some of our work for Lightfoot at:
https://www.herrmann.com/portfolio/lightfoot