Are You Tuned In to These Video Trends?
Five Reasons Why Video Needs to Be in Your Marketing Strategy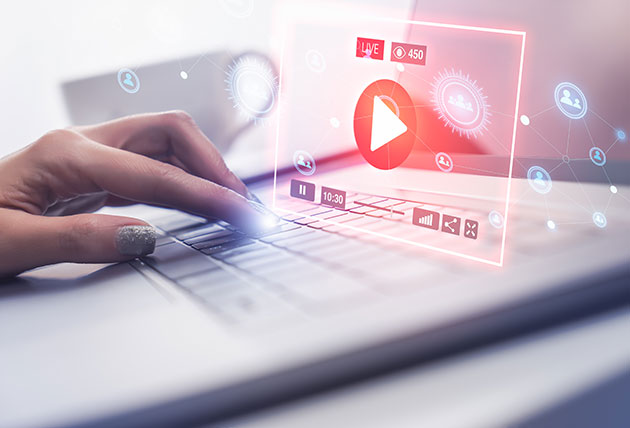 The benefits of incorporating video into marketing strategies have long been acknowledged, yet many still vacillate on whether it's worth the investment. For those still on the fence, recent studies show there's an increasing appetite among audiences to view — and respond to — video versus more traditional communication channels.
As noted in the following five trends, there are some powerful stats emerging that underscore the viability and versatility of video tactics.
1. C-Level Engagement is Rising
According to Forbes, more than 75% of business executives report they watch work-related videos on business-related websites at least weekly, and 52% say they watch work-related videos on YouTube. It is also noteworthy that executives over the age of 50 are increasingly watching videos online.
2. More Companies are Using Video — and Reporting Positive ROIs
In 2020, 85% of all businesses reported using video as a marketing tool according to Wyzowl's State of Video Marketing Survey. This is a significant leap from that reported in 2016, when usage was pegged at just 61%. When asked whether they felt their investments were paying off, 88% of companies reported a positive ROI. In 2015, just 33% of respondents said they were seeing positive returns.
3. Websites with Video Drive Organic Search Results
Every company wants to achieve great search engine results. But one trend making heads turn is the fact that video content in 2018 was 50 times more likely to drive organic traffic than plain text. That's because pages with video are more likely to be ranked higher by Google. Thus, it is vital to have your video content optimized for SEO by including text overlays and closed captions as well as the description, title and file name you assign.
4. Reformat & Repurpose
In the past, the time and effort to produce a video often was limited to that single medium. But today, many are recognizing their investments can go much further, especially when they think beyond simply posting the video to a website or uploading it on Facebook or YouTube. Transcriptions can be used to accompany the video or be adapted for use as blog articles. The audio track can be repurposed for a podcast. Short video clips can be used in digital advertising campaigns. The more channels you can reach, the more you will gain through greater exposure and higher ROI.
5. Social Distancing Means More Video Opportunities
The number of companies using video conferencing and livestreaming meetings and events has been on the rise for several years. But in the wake of COVID-19, that number has risen exponentially. Ditto the number of individuals watching videos online. Consider showcasing your products, services, expertise or company's culture through video. When making a pitch via a videoconference or recording a live event, follow up with attendees and others as appropriate by sending them a link. In addition, consider recording a personal video message with your smartphone when you want to leave an impression that's more memorable than an email or phone call.
With production costs on the decline, and viewership on the rise, there's never been a better time to give video a second look. Even if you're already using video, do a quick assessment to see if you're maximizing its potential across various platforms. When you're tuned in to the latest video trends and opportunities, the more likely your audiences will be hitting the "Play" button.

Set up a video call with Herrmann Advertising's Chief Business Development Officer John Albert at john@herrmann.com to get started on your next production.